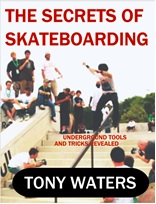 145 Page in depth guide of tricks
Features how-to, troubleshooting, and other skate secrets
Written by underground skater Tony Waters
Access Full eBook
Success Questions: Get Inspired And Motivated
Another powerful success enhancer we can utilize is asking ourselves positive questions.
Motivational and success guru, Anthony Robbins (f your only exposure to Robbins are his infomercials, don't rush to judgment— his concepts and teachings have very real merit) says that questions are the control keys to focus. Asking the right questions can immediately direct our focus so we may be more resourceful and motivated.
Success Questions can quickly and effectively change the focus of our thoughts so they are directed toward the goals we set for ourselves.
How they work is by overriding our internal negative questions so our subconscious mind works with us instead of against us.
Most people ask lousy questions that hinder their results. They ask, "Why does this sort of thing always happen to me?" or "How come it's taking so long for me to learn the Varial Flip?"
By asking these questions, you are presuming that bad things always happen to you and you take a long time to learn tricks.
By these questions, you are turning your focus away from what you want and towards more of what you don't want.
When we think about what we do want, more of it will come into our lives. When we think about what we do not want, more of it will come into our lives as well.
This is the wonderful concept of the Law of Attraction (featured in the hit movie, The Secret). I have hinted towards this Law several times in this book, but because I do not have the time to fully delve into it, I highly recommend learning more about it, as it affects every single aspect of your life.
How to Use Success Questions
Now that we know that positive questions lead to positive outcomes, we must learn to use them effectively to get the results we desire.
Success Questions are simply positive questions you ask yourself regularly when you have spare time, when you start doubting yourself or anytime you feel you need to focus your thoughts.
They should be directed to the specific goal you're working on. Here are a few examples of Success Questions:
What can I do to learn the Varial Flip as quickly and efficiently as possible?
What can I do at this moment that will lead me toward my goal of getting sponsored?
How can I improve the height of my ollies?
What do I love about skateboarding?
How would I feel if I just landed ?
What's great about this?
How did I get so good at skateboarding?
The last couple questions are extremely powerful because they are asked with the assumption that the situation is great and you are good at skateboarding!
Ask yourself now, "What is that I love most about skateboarding?" and write down your response. As you think about your answer, you mind runs through the things you love about skateboarding.
Your mind will begin to focus on positives aspects and pretty soon, your state will completely change and you will feel excited and motivated about skateboarding!
Write your Own Success Questions
Take the time now to write down a list of 15 Success Questions you can ask yourself on a daily basis or when you are skateboarding.
Write them down in a new page in your Skateboarding Success Journal and ask yourself these questions whenever your get the chance to or whenever you feel "stuck" or unmotivated to change your focus and redirect yourself towards your goal.
Make a habit to ask yourself these questions constantly. I usually always ask myself Success Questions when I brush my teeth in the mornings. Write down some times during the day when…
This is just a preview. The entire section has 656 words. Click below to download the full Secrets of The Secrets of Skateboarding.