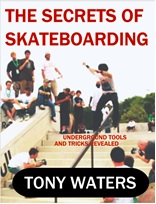 145 Page in depth guide of tricks
Features how-to, troubleshooting, and other skate secrets
Written by underground skater Tony Waters
Access Full eBook
How to Ollie Higher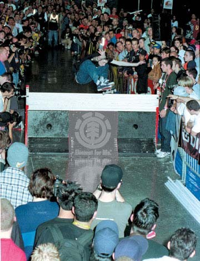 Danny Wainwright sets the world record for the highest Ollie with an amazing jump of 44.5″!
Low Ollies are quite common for beginner skaters. There is a lot to take in when first learning the Ollie so the timing of the trick can be difficult.
However, once you learn how to get your board at least a little bit off the ground, you won't have any trouble learning how to get your Ollies higher and higher.
Low Ollies almost always result from not picking up your feet high enough. However, you need to be perfectly balanced in order to be able to suck up your legs.
While preparing for the Ollie, have your shoulders centered, and your weight over the center of the board. As you pop your tail, suck up your legs and pull your feet into the air! Aim for hitting your chest with your knees.
When practice getting your Ollies higher, it is not important that you land your Ollies. Just focus on getting the board up into the air.
Don't worry about your front foot; it might slide off the board a few times, but for now, don't think about it. Concentrate on popping up, dragging your lead foot up all the way, and sucking up your legs. I cannot stress how important the sucking up motion is.
A great way to practice Ollying higher is to pop the tail to begin an Ollie, take off your back foot and plant it on the ground, but continue to drag your front foot and slam down on the board.
Basically, you are doing an Ollie with only the front foot. If you can get the board pretty high in the air, you are doing it right. This practice method will instantly help you feel the appropriate dragging motion of the front foot.
Right now, take a break from reading and go skate for…
This is just a preview. The entire section has 348 words. Click below to download the full Secrets of The Secrets of Skateboarding.