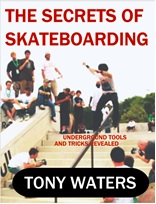 145 Page in depth guide of tricks
Features how-to, troubleshooting, and other skate secrets
Written by underground skater Tony Waters
Access Full eBook
How To Make Sure You Stay Committed And Get Results
Make a firm commitment to yourself right now that you will work to improve on your skateboarding every day and write that commitment down in your Skateboarding Success Journal
Without a written declaration of your intent to improve, it becomes easy to forget or skip exercises because you don't feel like doing them. Make a decision right now that you will give 100% of yourself to working on improving your skateboarding skills.
I know that you will encounter many roadblocks on your journey to become the best skater you can be. At times, you will be too tired, lazy, or busy to do these exercises. Just remember that the biggest difference between champions and regular people is that champions stay focused on completing activities which are the highest and best use of their time." With that said, let's get started!
This is just a preview. The entire section has 149 words. Click below to download the full Secrets of The Secrets of Skateboarding.