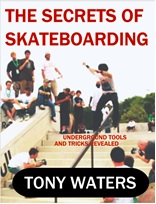 145 Page in depth guide of tricks
Features how-to, troubleshooting, and other skate secrets
Written by underground skater Tony Waters
Access Full eBook
Deck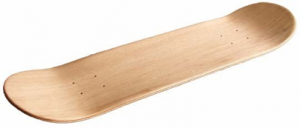 You probably know that there are two types of skateboarding: vert and street. Because there are so many differences in the styles vert and street, you want to be careful when choosing deck that'll work for you.
Vert Skaters
If you mostly skateboard at the skate park, on ramps, or in pools, you'll want to select a deck that is appropriate for vert. You'll want a board that's a little wider. Choose a board over 8" wide.
Street Skaters
If you spend most of your time skating around in the street, you'll want a board that has a lot of pop and is suitable for grinds and flip tricks.
Choose a deck that is smaller than 8". My personal preference is 7.5", but pick which ever is most comfortable for you. Anything wider will make it difficult to execute technical tricks.
Both
If you want do both (which is not a bad idea at all) then you should find a deck that's right there in the middle. An 8" deck is an excellent choice.
If you like one better than the other, you might want to consider getting a board that suits that type of skating. Narrow boards make it harder to balance on ramps, whereas wider boards make it harder to do flip tricks.
Riding Around
If you only want to use your board for transportation, go for a bigger board, which gives you more balance and control. Also, be sure to look into long boards, as they provide more comfort, safety and control.
Cost
A good deck should cost anywhere from $20 to $60. Brand name companies, such as Element, Girl, Almost, Toy Machine, etc offer high quality boards for around $49.99.
Blank decks are another great option and cost anywhere from $20-$40. If you're new to skateboarding, I highly recommend getting a blank deck, since they are much cheaper yet are very close in quality to brand name decks.
Ccs.com is one of the biggest skateboard distributors in the world. They carry every single major brand for reasonable prices. A good starting deck is the CCS blank complete, which you can build at http://www.ccs.com.
Reviews
Enjoi:
I have had great experiences overall with Enjoi decks. The decks are very durable and stable. The board can last up to
3 months of hardcore skating.
One feature I love about Enjois are their unique shape. They have a massive concave that takes a while to get used to. The deep concave gives total control over flip tricks.
Enjoi Boards have awesome pop. I've noticed that their tails and noses are generally longer than the average board, which helps with pop.
Popwar:
They're not called POPwar for nothing. The boards have as as much bounce and pop as their little bunny logo. I've noticed that the board is much stiffer, which is why the pop feels so different and cleaner.
The shape of the deck varies. Some have deep concaves that are perfect for flip tricks, while others seem relatively flat. It all comes down to personal preference.
This deck will score an 8/10 on the durability scale. It should last up to 3 months from regular skating.
Alien Workshop:
AWS has been around for quite sometime, meaning these people know how to design a quality board. The board has great pop, although the deck doesn't feel as stiff. The shape of board varies by each deck, but they have deep noses and high tails, which take a…
This is just a preview. The entire section has 624 words. Click below to download the full Secrets of The Secrets of Skateboarding.