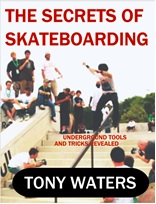 145 Page in depth guide of tricks
Features how-to, troubleshooting, and other skate secrets
Written by underground skater Tony Waters
Access Full eBook
Saving Money Tips for Teens – Get That New Board!
When you're saving up for something big, it can be a lot tougher to conserve and budget your money than you might think. The resources available through the following sites will help you figure out your strategy for coming up with the money without having to give up everything else you enjoy in the meantime.
Sites to Help You Get a Job
If you're looking at any half-decent board setup, you know that you'll probably need to have a regular income to be able to purchase it anytime soon. These sites have everything you'll need to make yourself as attractive to prospective employers as possible.
Job Strategies for Teens – A step-by-step rundown of what you need to know to set yourself apart from the crowd at any job interview.
JobStar Resume Tools – JobStar Central is a non-profit organization that works to help prepare people for the job market. The site is full of free templates that you can use to write your resume.
Cool Works – A database showcasing awesome jobs around the country at places like national parks, ski resorts, and more. You can search the site by area or by job type.
Snag-a-Job Teen Page – All kinds of resources for the teen job seeker – from listings of companies that are currently hiring, to articles with all kinds of helpful advice for being a good employee.
Sites to Help You Understand and Manage Credit
If you're considering opening up a line of credit to get your new goodies, don't do so without proper research. Starting your first line of credit can be an important, empowering step toward financial freedom. On the other hand, it can also start you down a road toward debt that will affect your ability to buy a car or a house – or even to pursue the career you want.
Ready, Set, Credit – From the Indiana Department of Financial Institutions comes this first-timer's guide to credit cards.
20 Things You Need to Know – Money as You Grow is a website created by the White House, offering age-specific sections with important information that you need to know before you start to make any major purchases.
Project C.H.A.N.G.E. – After the economic recession of 2008, officials at the SEC, FINRA, and Jump$tart formed C.H.A.N.G.E. (Creating Habits and Awareness for the Next Generation's Economy). The program is aimed at arming you with the knowledge you need to be successful in today's economy.
BankRate.com – BankRate is an objective, unbiased site where you can compare loan rates from financial institutions across the country. You can find out what you'll pay for everything from a starter credit card to a home mortgage.
Tips and Strategies
Each of these sites provides loads of ideas, pointers, advice, and insight. It's all aimed at making you more financially savvy and to help keep you from making the same mistakes that many young people make when they first begin to exercise financial independence.
Consumer Jungle – The University of Arizona put together these tips for taking control of your financial future. It was originally created for college students, but has excellent advice for any teen as they head toward adulthood and personal money management.
Money Saving Tips for Tweens by The Mint – Try to ignore the use of the word "tween" and you'll find lots of great tips for smart saving here. The Mint is a collaborative effort between the National Council on Economic Education and the Northwestern Mutual's charitable division.
Financial Advice For Teens, From Teens – Advice and straight talk from other teens to help set you on the road to financial freedom.
Money Talks 4 Teens – This site, from the University of California at Davis, is dedicated to everything related to finances and teens. From learning about credit to honing job interview skills, you'll get all kinds of excellent resources to get you in the know when it comes to making, saving, and spending.
Quizzes and Calculators
Think you already know all the facts about saving and using credit? Test your knowledge using the quizzes and calculators offered through the following free sites. Here you'll find lots of valuable tools to help you gauge how prepared you are to manage your own money.
Test Your Ad-Smarts – Take the Wise Buys quiz, created by the Maryland Attorney General's Office, to test your savvy when it comes to dealing with advertising and the media. Are you hip to the tactics used by companies every day to try and get you to buy their products? Find out!
Interest Calculator – Try this compounding calculator from The Mint to see how much your savings could earn you over the years. Click around to try out more fun calculators to help you understand how money really works.
Investor Education Savings Calculator – A savings calculator that allows you to track the interest you are earning from a savings account and also to add up how much you can save by trimming out unnecessary purchases.
Are You a Teenage Money Dummy? – From BankRate.com, this quiz tests your ability to make financially sound decisions. Do you know if it's better to buy something cheap to get cash back from your bankcard, or to use an ATM with a small fee? The answer might surprise you.
Even More Resources
The last collection of sites are all just too good to leave off the list from a site dedicated entirely to young entrepreneurs, to government pages created just for you, you'll find even more valuable information about money management.
Tips for Teens – From the California Department of Consumer Affairs, comes this FDIC guide to banking, saving, and building credit for teens.
My Bread High School Financial Planning – My Bread, funded by the National Endowment for Financial Education, is aimed at students looking for ways to pay for college. It's also a valuable resource for anyone entering the world of financial responsibility.
Investopedia Stock Market Simulator – If you've ever thought of trying your hand at playing the stock market to make extra money, the free simulator will let you create a virtual investment portfolio. Great practice without having to risk your actual money.