Affiliate Program
Join our affiliate program and start earning a whopping 50% commission on every sale!
How our Affiliate Program Works:
When you sign up as an affiliate, you will be given your own affiliate URL. You then help promote Secrets of Skateboarding through your unique affiliate URL. You will be able to access our huge collection of affilaite resources.

When a prospect visits your unique affiliate URL, they see the main page, just as if they visited http://www.secretsofskateboarding.com directly.

When they come to the site through your affiliate URL, though, their computer tells us that you referred them to us.

When they order their copy of Secrets of Skateboarding, that referral information is submitted automatically with their order, and you earn a 50% commission on that sale!
What are you waiting for? Sign up now!
How you get paid:
For every sale you refer to us, you will receive 50% of the payment. We use ClickBank.com to manage our affiliate program. We will provide you with the top tools to sell our product easily.
ClickBank.com will even credit you for sales even if your buyer does not buy on the first day. So even if they come back months later, you still get paid. We always pay the last affiliate who referred the customer to us.
ClickBank sends out checks twice a month, on the 1st and the 16th. You can find out how much you've earned anytime by checking the status of your commissions in real-time through your ClickBank account.
4 Steps to Becoming a High Earning Affiliate:
1. Create a Clickbank account
2. Get your unique Secrets of Skateboarding affiliate link here
4. Look through our affiliate resource center for ideas on how you can promote Secrets of Skateboarding
3. Start raking in money!
---
Affiliate Resource Center
Banners
Below are one of the quickest easiest ways to send traffic to your affiliate link. Feel free to use them on your website.
You can also use them in banner exchange programs. I've listed some of the most effective ones below. Clicking on each one will open a new window.
Remember to link to your affiliate link.
http://YOURClickbankID.skateguide.hop.clickbank.net
How to save banners to your computer:
Right click, select "Save Target As" and save the banners below.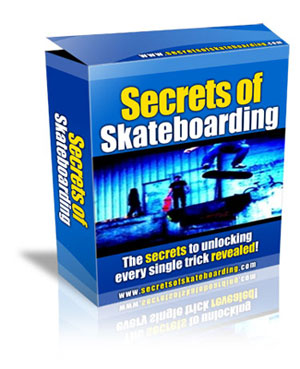 New banners and graphics coming soon!
If you require a different size or a custom banner just email me and I'll have one made for you.

---
Forums
One of the best ways to promote your affiliate URL is through skateboarding forums. Simply create a link in your signiture (with your affiliate url) titled Secrets of Skateboard Guide or anything you want.
Here's a template to get you started...
[url=http://YOURClickbankID.skateguide.hop.clickbank.net]Learn the Secrets of Skateboarding...[/url]
---
To Your Success,
Tony Waters
tony@secretsofskateboarding.com